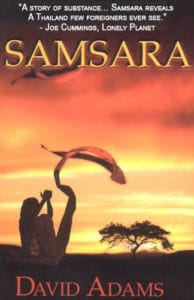 Now on Audible.com SAMSARA an ecological thriller by David Adams
Exchanging Western values for far-off Thailand, Gunnar Ray plans to teach in the countryside and absorb the country's ancient wisdom. When monsoon rains flood the lands above his adopted village, catastrophe strikes. Gunnar's innocence is swept downstream along with hundreds of Thai lives.
Spiritually adrift, he washes up in the offices of the Bangkok Times, a crusading reporter hell bent on derailing corrupt officials at war with the Thai environment. He is not alone. A summons from an enigmatic Buddhist monk with rumoured mystical powers and a near militant love for the jungle is just the sort of lead that Gunnar thrives on. In a forgotten province, he will test whether his pen is indeed mightier than the military's sword. When the forest-protecting monk of the Northeast is arrested, Gunnar sets off on a cross-country journey to summon support.
With the monk's beautiful niece as his guide, he navigates the currents and eddies of remote provinces that few Westerners have penetrated. Gunnar's articles aimed at freeing the first-ever imprisoned Thai monk transform him into a high profile activist-and target. Ultimately he must choose: his growing love for the monk's niece and commitment to the cause, versus the now daily threat of an assassin's bullet.
Ecological thriller, love story, spiritual journey, Samsara scratches the bloody underbelly of a nation in conflict.