ATTRACTIONS
[slide-anything id='18183′]Wellington is the capital city and second most populous urban area of New Zealand. It is located at the south-western tip of the North Island on Cook Strait, separating the North and South Islands. The Windy City is built on the foreshore of Wellington Harbour and ringed by mountains, providing the scenic home of many of New Zealand's national arts and cultural attractions. Wellington is New Zealand's political center, housing the nation's parliament and head offices of major government institutions, and large businesses. It is a popular conference tourism destination due to its blend of culture, compact nature, cultural attractions, lively arts and entertainment, award-winning restaurants and access to government agencies. Architectural sights include the Government Building – one of the largest wooden buildings in the world – as well as the iconic Beehive. Wellington is also home to several of the largest and oldest cultural institutions in the nation and numerous theatres. Popular tourist attractions include Wellington Museum, Wellington Zoo, Zealandia and Wellington Cable Car. Steep landforms shape and constrain much of Wellington city, its notable hills in and around Wellington like 196 m. Mt Vic is a popular walk for tourists and Wellingtonians alike, as from the summit one can see most of Wellington. There are also numerous mountain bike and walking tracks on the hill. Wellington is one of the best places to visit a compact city, it encompasses a waterfront promenade, sandy beaches and colourful timber houses on surrounding hills.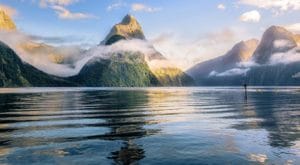 Milford Sound is a fiord in the southwest of New Zealand's South Island within Fiordland National Park. It is one of the most famous attractions in the country. It has been judged the world's top travel destination in an international survey and is acclaimed as New Zealand's most famous tourist destination. Rudyard Kipling had previously called it 'The Eighth Wonder of the World'. As a fiord, Milford Sound was formed by a process of glaciation over millions of years. It offers one of the most staggering coastal scenery in the world with its majestic peaks and dark blue waters. Milford Sound attracts between 550,000 and 1 million visitors per year. Activities like tramping, canoeing, boat tours, and some other water sports are possible, it is also a popular destination for cruise ships an excellent way to experience the Sound. Seals, penguins, and southernmost population of bottlenose dolphins frequent the waters, and whales especially humpback whales and southern right whales are increasingly observed due to recoveries of each species. The sound has been identified as an Important Bird Area by BirdLife International because it is a breeding site for Fiordland penguins. The Milford Discovery Centre and Underwater Observatory allows visitors to view the fiord's unique marine environment and marvel at the rare black coral. Milford Sound's natural beauty attracted national and international renown, and led to the discovery of the Mackinnon Pass in 1888, soon to become a part of the new Milford Track, an early walking tourism trail and New Zealand's most well-known hiking trail. In the same year, the low watershed saddle between the Hollyford River and the Cleddau River was discovered, where the Homer Tunnel was to be developed about sixty years later to provide road access.

Bay of Islands is an area on the east coast of the Far North District of the North Island of New Zealand. It contains 144 islands, numerous peninsulas and inlets. It is one of the popular tourist destinations in the country and has been renowned internationally for its big-game fishing. In a 2006 study, the Bay of Islands was found to have the second bluest sky in the world, after Rio de Janeiro. This picturesque area got its modern name from Captain James Cook when he stopped by the island in 1769. The region is renowned for its native wildlife and abundance of marine mammals such as whales, penguins, dolphins, the big marlin and more. You get to encounter these intelligent and playful mammals in their natural environment. With warm, calm water year-round, the Bay of Islands is a marine playground, perfect for swimming, boating, fishing, diving and kayaking. Surrounded by rolling farmland and native bush, the Bay is a popular spot for walking and hiking. Many of the islands have walking tracks and there is a camping ground. Bay of Islands is a favorite spot for diving enthusiasts, sailing yachts, world cruises and international sport fishermen, and also New Zealand's number one destination for skydiving at the beach. It was the first area in New Zealand to be settled by Europeans, it has many interesting historic towns like Waitangi. Today, the Waitangi Treaty Grounds is New Zealand's most important historic site where the initial signing of the Treaty of Waitangi took place. With an abundance of marine wildlife, enormous historical significance, breathtaking forested slopes, secret white-sand coves, and glittering expanse of blue sea its a paradise to those seeking for an endless adventure.
TRAVEL ADVENTURE
New Zealand boasts for its stunning mountain ranges, majestic coastlines, enormous lakes, emerald fiords, crystal-like glaciers, lush rainforests and active volcanoes. It is wise to discover the country's pride and prepare to be delighted upon uncovering its infinite beauty.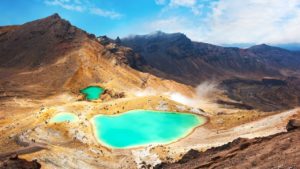 Tongariro National Park is the first national park of New Zealand, has a rugged, volcanic landscape that is known for its surprises and extremes. It has a diverse range of ecosystem that includes tranquil lakes, active volcanoes, untamed forest and desert-like plateaus. A World Heritage site which has the distinction of dual status, as it has been acknowledged for both its natural and cultural significance. It is the oldest national park in New Zealand and the sixth national park established in the world, located in the central North Island. The park is well developed for tourism. There are a number of Maori religious sites within the park, and many of the park's summits to them are sacred. Volcanic processes have been building the mountains of Tongariro National Park for over two million years. Erosion and deposition by mountain glaciers has also played an important role in shaping Tongariro and Ruapehu volcanoes. The main activities of the park are hiking and rock-climbing in summer, and skiing and snowboarding in winter. There is also opportunity for hunting, game fishing, mountain biking, horse riding, rafting and scenic flights. The most popular track in Tongariro National Park is the Tongariro Alpine Crossing widely regarded as one of the world's best one-day hikes. Most of the track is also part of the Tongariro Northern Circuit, a two- to four-day tour, which is one of New Zealand's nine Great Walks.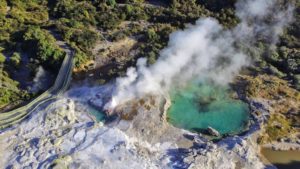 Rotorua is a city on the southern shores of Lake Rotorua, located in the Bay of Plenty Region of New Zealand's North Island. It is a major destination for both domestic and international tourists, the tourism industry is by far the largest industry in the district. It is known for its geothermal activity, and features geysers – notably the Pohutu Geyser at Whakarewarewa – and hot mud pools. This thermal activity is sourced to the Rotorua caldera, in which the town lies. It is widely known as the thermal wonderland of the country since 1880. The thermal springs, mud pools and geysers are the famous tourist attractions in the area. The Wai-O-Tapu nearby is another popular interest among tourist because of the hot springs noted for their colorful appearance. The smell of sulphur is an indication of thermal activity that is evident in the region. The Rotorua region has 17 lakes in which boating, fishing, waterskiing, swimming and other water activities are popular especially in summer. Several of the lakes are stocked for sports fishing with trout from the Fish and Game New Zealand hatchery at Ngongotaha. Rotorua is also a home to botanical gardens and historic architecture. Known as a spa town and major tourist resort since the 1800s, many of its buildings hint at this history. Another of Rotorua's attractions is mountain biking with over 100 km of mountain bike trails.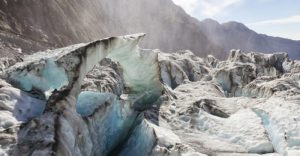 Franz Josef Glacier is a 12 km long temperate maritime glacier located in Westland Tai Poutini National Park on the West Coast of New Zealand's South Island. It descends from the Southern Alps to less than 300 metres above sea level. It exhibits a cyclic pattern of advance and retreat, driven by differences between the volume of meltwater at the foot of the glacier and volume of snowfall feeding the neve. It is one of New Zealand's most spectacular natural attractions a remnant from the Ice Age. The glacier area is one of the major tourist attractions of the West Coast, with around 250,000 visitors a year, – guided and unguided walks up to and onto the glacier are possible but requires some specialised equipment, helicopter tours and be dropped between the first and second icefalls, for a guided 1–2 hour walk through the broken ground atop the glacier, or getting the big picture from the sky by a helicopter. Having retreated several kilometres between the 1940s and 1980s, the glacier entered an advancing phase in 1984 and at times has advanced at the phenomenal (by glacial standards) rate of 70 cm a day. Over the longer term, the glacier has retreated since the last ice age, and it is believed that it extended into the sea some 10,000 to 15,000 years ago. The glacier was still advancing until 2008, but since then it has entered a very rapid phase of retreat, the shrinking process is attributed to global warming. Although the glacial landscape changes almost daily, given the glacier's unusually fast flow, and some walks including passages through ice tunnels, they are still considered quite safe and only somewhat strenuous.
THE PEOPLE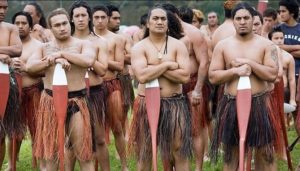 New Zealanders, colloquially known as Kiwis are people associated with New Zealand, sharing a common history, culture, and language. Central to many cultural events is the marae, where families and tribes gather for special occasions, such as powhiri or tangi. Maori often call themselves "tangata whenua" (people of the land), placing particular importance on a lifestyle connected to land and sea. Communal living, sharing, and living off the land are strong traditional values. The distinct values, history, and worldview of Maori are expressed through traditional arts and skills such as haka, ta moko, waiata, carving, weaving, and poi. The concept of tapu (meaning taboo or sacred) is also a strong force in Maori culture, applied to objects, people, or even mountains. New Zealanders are by and large open-minded and believe people should be free to live the lifestyle they choose. New Zealand's culture is mainly derived from Maori and early British settlers, with recent broadening arising from increased immigration.