ATTRACTIONS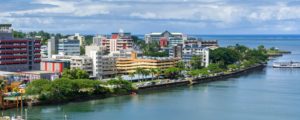 Suva  Suva is the capital and largest metropolitan city in Fiji. It is located on the southeast coast of the island of Viti Levu, in the Rewa Province, Central Division. Suva is the political, economic, and cultural center of Fiji.  The city has a thriving arts and performance scene. A well-known landmark is the Suva City Carnegie Library as well as many other colonial buildings. Suva has a number of parks that host performances, historical events, parades and carnivals. Takashi Suzuki Garden at Suva Point is popular for viewing sunrise and sunset. The Fiji Museum houses the most extensive collection of Fijian artifacts in the world. It is a research and educational institution specializing in archaeology, the preservation of Fiji's oral tradition, and the publication of material on Fiji's language and culture. The Suva campus of the University of the South Pacific is the largest of the many USP campuses dotted throughout the South Pacific and the largest university in the Pacific Islands outside Hawaii. It offers courses which are internationally recognized and endorsed. A short drive from the city center you will find the Colo-i-Suva Forest Reserve, where many city residents go for a swim under the cascading waterfalls. With its growing reputation as the region's fashion capital, Suva is one of the most shopper friendly cities in the Pacific and has long been known for its affordable and unique offerings, often duty-free. Suva has a vibrant nightlife that caters to all tastes, moods and likes.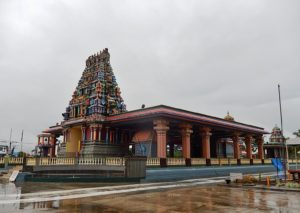 Nadi is Fiji's third largest city. It is located on the western side of the main island of Viti Levu. A bustling tourism hub on the west coast, Nadi is the principal port of entry for air travelers to Fiji, Home Nadi International Airport it is a great place for travelers to eat, drink and shop. Main Street offers the latest Hindi or Fijian music playing from every storefront. Nadi is the perfect South Pacific stopover city. A center for Hinduism and Islam, it is the location of Sri Siva Subramaniya Swami – the largest Hindu temple in the southern hemisphere. Pilgrims from Fiji's large Indian population. Nearby, is Natadola Beach, Fiji's most popular for swimming and surfing. Fijians are renowned for their handicrafts, particularly carved kava bowls, war clubs, cannibal forks, woven baskets, mats, pottery and masi cloth. Nadi Handicraft Center carries a range of of these as well as clothing, leather goods, jewelry and black pearls. Nadi has an almost unlimited supply of restaurants. Local and international culinary delights can be found downtown, while a number of resort restaurants are held in high esteem. With the Pacific Ocean and a number of lagoons lapping at Fiji's west coast, seafood is in abundance and a notable specialty in Nadi.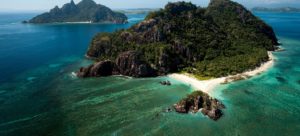 The Mamanuca Islands  The Mamanuca Islands are Fiji's most popular group of islands, located west of Nadi. Here, you will find a group of twenty stunning palm fringed islands, that are home to some of Fiji's most exclusive resorts, seven of which are covered by the ocean at high tide. They are perfect for those wanting to enjoy a relaxing vacation for time on the beach. Water sports include swimming, snorkeling, kayaking, semi-submersible coral viewing, surfing, scuba diving, boating, swimming with reef sharks, spa, hiking, visiting villages, mini golf and discovering secluded beaches. Mamanucas feature stunning white sand beaches, crystal clear waters, amazing coral gardens, warm turquoise sea and swaying coconut palms. Whether you're looking for a relaxing break, an affordable holiday or some family time, there's an island in the Mamanucas for everyone. For the adventurous, there are high-speed jet ski safaris to tropical islands, skydiving from 14,000 ft., coral reefs, or testing your skills on Fiji's most iconic surf, the world-famous Cloud Break. 
TRAVEL ADVENTURE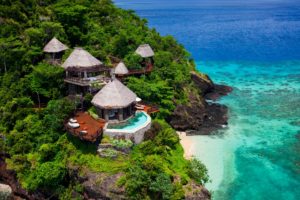 Fiji is a fantastic holiday destination, renowned for its breathtaking sandy beaches, friendly locals and aesthetically pleasing islands with all-year-round tropical weather that lures travelers to unravel. It has a variety of world class five-star resorts and hotels. CNN named Fiji's Laucala Island Resort as one of the fifteen world's most beautiful island hotels. Many sought after experiences are found right here in Fiji, enjoy exploring Fiji's spectacular beauty from above or below the surface. For an iconic Fijian seaside escape, few places can rival Castaway Island, is a cocktail of swaying palms, tranquil waters and bleach-white sand. It's also home to one of the most popular resorts in the country – Castaway Resort. Castaway Island is fringed by spectacular coral reefs. There are over 30 stunning dive sites within just 20 minutes of the Castaway Resort, making it one of the most popular destinations for scuba diving and snorkeling in Fiji. Finding the perfect Fijian island to host your adventure is only a matter of research. Despite of its considerable size, in many ways Kadavu Island feels like Fiji's forgotten corner. The southern island is a remote outpost of lush forest, winding rivers, virgin beaches, quiet local Fijian villages, and the world-famous Great Astrolabe Reef – one of the largest and healthiest coral reefs in the world.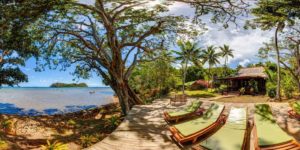 Kadavu's unspoiled landscape has inspired a number of eco-friendly accommodations, like the Matava Resort. The award-winning resort has a strong reputation as a leader in sustainable tourism in Fiji. While the world class snorkeling and diving available on Kadavu is enough to keep any nature-lover occupied, the local culture offers one of the best experiences on the island.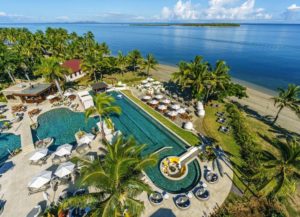 Denarau Island is an upscale resort area with a golf course and marina. No list of go-to Fijian islands would be complete without Denarau, the largest integrated resort in the South Pacific. Denarau began as a resort development in the 1960's and has now grown into an extensive playground for holidaymakers with a taste for the finer things. Hilton, Sheraton and Sofitel all operate resorts on the island. As you'd expect with a high-end resort town, Denarau has no shortage of activities to occupy yourself in between meals. A championship golf course, jet ski safaris, game fishing, scuba diving, village tours and even an inflatable water park are all available to guests.
THE PEOPLE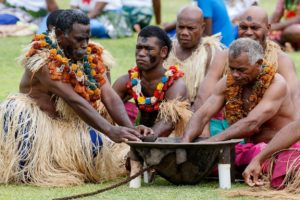 Fijians are a nation and ethnic group native to Fiji, who speak Fijian and share a common history and culture. Fijians, are the major indigenous people of the Fiji Islands, and live in an area informally called Melanesia. Indigenous Fijians are believed to have arrived from western Melanesia approximately 3,500 years ago, though the exact origins of the Fijian people are unknown. Indigenous Fijians are predominantly of Melanesian extraction, with some Polynesian admixture. Fiji's culture is a rich mosaic of indigenous Fijian, Indo-Fijian, Asian and European traditions, comprising social polity, language, food, costume, belief systems, architecture, arts, craft, music, dance, and sports. The various cultures of Fiji have come together to create a unique multicultural national identity.