ATTRACTIONS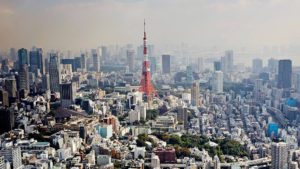 Tokyo  Tokyo is the capital of Japan and the world's most populous metropolis. This enormous, wealthy and fascinating city is a fusion of ultramodern and traditional. Neon-lit skyscrapers to historic temples and cherry blossoms, Tokyo represents the entire sweep of Japanese history and culture and has something for everyone. Twice in recent history Tokyo has been left in ruins: first in the 1923 during the Great Kanto earthquake and later after extensive firebombing in World War II. Because of this, Tokyo's urban landscape consists mainly of modern and contemporary architecture, and older buildings are scarce. Tokyo features many internationally famous forms of modern architecture including Tokyo International Forum, Asahi Beer Hall, Mode Gakuen Cocoon Tower, NTT Docomo Yoyogi Building and Rainbow Bridge. Tokyo also features two distinctive towers: Tokyo Tower, and the new Tokyo Skytree, which is the tallest tower in Japan. History can be appreciated in districts such as Asakusa and in many excellent museums, historic temples and gardens. Contrary to common perception, Tokyo also offers a number of attractive green spaces in the city center within short train rides. Tokyo also contains numerous parks and gardens. There are four national parks in Tokyo Prefecture, including the Fuji-Hakone-Izu National Park, which includes all of the Izu Islands. The opulent Meiji Shinto Shrine is known for its towering gate and surrounding woods. The Imperial Palace sits amid large public gardens. The city's many museums offer exhibits ranging from classical art (in the Tokyo National Museum) to a reconstructed kabuki theater (in the Edo-Tokyo Museum). The Tsukiji Fish Market in Tokyo is the biggest wholesale fish and seafood market in the world, and also one of the largest wholesale food markets of any kind.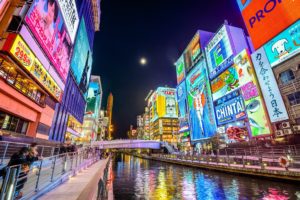 Osaka Osaka is a designated city in the Kansai region of Japan. It is the capital city of Osaka Prefecture and the largest component of the Keihanshin Metropolitan Area, the second largest metropolitan area in Japan and among the largest in the world with over 19 million inhabitants. Central Osaka is roughly divided into downtown and uptown areas known as Kita ("north") and Minami ("south"). Kita is home to the Umeda district and its immediate surrounding neighborhoods, a major business and retail hub that plays host to Osaka Station City and a large subterranean network of shopping arcades. Kita and nearby Nakanoshima contain a prominent portion of the city's skyscrapers and are often featured in photographs of Osaka's skyline. Minami, though meaning "south", is essentially in Chuo Ward and geographically central within the city. Well known districts here include Namba and Shinsaibashi shopping areas, the Dotonbori canal entertainment area, Nipponbashi Den Den Town, as well as arts and fashion culture-oriented areas such as Amerikamura and Horie. The city's west side is a prominent bay area which serves as its main port as well as a tourist destination with attractions such as Kyocera Dome, Universal Studios Japan and the Tempozan Harbour Village. East Osaka is zoned as a separate city, although the east side of Osaka city proper contains numerous residential neighborhoods including Tsuruhashi Korea Town, as well as the Osaka Castle Park, Osaka Business Park and the hub Kyobashi Station. Osaka contains numerous urban canals and bridges, many of which serve as the namesake for their surrounding neighbourhoods.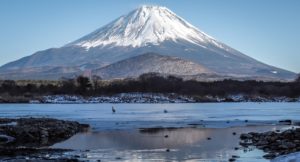 Mount Fuji Mt. Fuji is located near the Pacific coast of central Honshu, is the highest volcano in Japan at 3,776.24 m, 2nd-highest peak of an island (volcanic) in Asia, and 7th-highest peak of an island in the world. It is a dormant stratovolcano that last erupted in 1707–1708. Mount Fuji lies about 100 kilometers south-west of Tokyo, and can be seen from there on a clear day. Mount Fuji's exceptionally symmetrical cone, which is snow-capped for about 5 months a year, is a well-known symbol of Japan and it is frequently depicted in art and photographs, as well as visited by sightseers and climbers. Mount Fuji is one of Japan's "Three Holy Mountains" along with Mount Tate and Mount Haku. It is also a Special Place of Scenic Beauty and one of Japan's Historic Sites. It was added to the World Heritage List as a Cultural Site on June 22, 2013. According to UNESCO, Mount Fuji has "inspired artists and poets and been the object of pilgrimage for centuries". UNESCO recognizes 25 sites of cultural interest within the Mount Fuji locality. These 25 locations include the mountain and the Shinto shrine, Fujisan Hongu Sengen Taisha, as well as the Buddhist Taisekiji Head Temple founded in 1290. The mountain is part of the Fuji-Hakone-Izu National Park. It can be seen more distantly from Yokohama, Tokyo, and sometimes as far as Chiba, Saitama, Tochigi, Ibaraki and Lake Hamana when the sky is clear. Particularly in the winter it can be seen from the Shinkansen until it reaches Utsunomiya station. It has also been photographed from space during a space shuttle mission. Most Japanese climb the mountain at night in order to be in a position at or near the summit when the sun rises. The morning light is called goraiko, "arrival of light". The four routes from the foot of the mountain offer historical sites. The Murayama is the oldest Mount Fuji route and the Yoshida route still has many old shrines, teahouses, and huts along its path. These routes are gaining popularity recently and are being restored, but climbing from the foot of the mountain is still relatively uncommon. Also, bears have been sighted along the Yoshida route.
TRAVEL ADVENTURE
People visit Japan because of their curiosity not only about the beauty underneath its exquisite modern architectures and futuristic cities but to feel the warmth of its embrace as it welcomes you. As you uncover the secrets of Japan you will fully understand the true meaning of richness from its ultra-modern Japanese buildings and impressive skyscrapers, the beauty of it's nature that never stops to impress you with breathtaking wonders, to the amazing people around you bathe with cultural values. Japan is indeed a very wealthy country.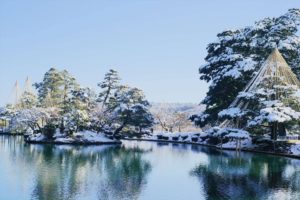 This old private garden named Kenroku-en, is one of the Three Great Gardens of Japan. This stunning garden is located outside the gates of Kanazawa Castle where it originally formed the outer garden, and covers over 25 acres. Its name was derived from the "Chronicles of the Famous Luoyang Gardens", and stands for the six attributes of a perfect landscape: spaciousness, seclusion, artifice, antiquity, waterways, and panoramas. Kenroku-en contains roughly 8,750 trees, and 183 species of plants in total. The garden features the oldest fountain in Japan, created using the natural pressure of water flowing from the higher pond. Yugao-tei, a teahouse, the oldest building in the garden. Shigure-tei, a rest House that was originally built by the 5th lord Tsunanori. Karasaki Pine, planted from seed by the 13th lord Nariyasu from Karasaki. Kotoji-toro, a stone lantern with two legs, said to resemble the bridge on a koto. This lantern is emblematic of Kenroku-en and Kanazawa. Flying Geese Bridge, made of eleven red stones, laid out to resemble geese in a flying formation. Kaiseki Pagoda, said to have been donated to the Maeda by Toyotomi Hideyoshi. In winter, visitors will have a glorious view of seasonal natural beauty including the snow-covered landscape with yukitsuri – ropes attached in a conical array to carefully support tree branches in the desired arrangements, thereby protecting the trees from damage caused by heavy snows. Kenroku-en is famous for its charm in all seasons, visitors will enjoy the beauty of the flowers and trees, such as plum and cherry blossoms in spring, azaleas and irises early in summer, and colorful red and yellow leaves in autumn.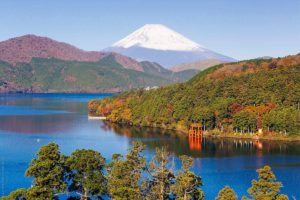 Fuji-Hakone-Izu National Park is a national park in Yamanashi, Shizuoka, and Kanagawa Prefectures, and western Tokyo Metropolis, Japan. It consists of world famous Mount Fuji, Fuji Five Lakes, Hakone, the Izu Peninsula, and the Izu Islands. Fuji-Hakone-Izu National Park covers 1,227 square kilometres. Rather than being a specific spot, the park is a collection of dispersed tourist sites that dot the region. The park includes a variety of geographic features including natural hot springs, coastlines, mountainous terrains, water bodies, miles of shoreline, and more than 1000 volcanic islands. There are waterfalls, gardens and coral reefs as well. Vegetation in the park ranges from species of mountainous trees to the subtropical vegetation of the Izu Islands. Due to its proximity to the Tokyo metropolis and ease of transportation, it is the most visited national park in all of Japan, and also one of the best destinations for tourists who travel to the "Land of the Rising Sun". Mount Fuji alone offers climbing, camping, fishing and diving. Nearby is the Fuji-Goko area, which has all year access and offers tourists venues for camping, hiking, boating, and scenic drives. The Izu Peninsula harbors an alligator garden, hot springs, tropical garden, and a coastline scenic drive. The Izu Islands have eight small islands that offer trekking, swimming and scuba diving that can be enjoyed all year-round. Two other activities popular throughout the park is birdwatching and whale watching directly offshore.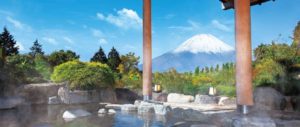 The sights of Hakone include the volcanically active Owakudani geysers and Hakone Shrine on the shore of the lake, as well as the Hakone Botanical Garden of Wetlands. In addition to hot springs, lakes, museums and other recreation activities, Hakone is known for its scenery during all four seasons. In April the cherry blossoms (sakura) and in autumn the Miscanthus sinensis (susuki) are noted sights. Hakone has a number of art museums, including the Hakone Open-Air Museum and Pola Museum of Art. One famous hotel in Hakone is the historic Fujiya Hotel in Miyanoshita, which was patronized by noted literary figures, politicians and foreign dignitaries in the Meiji and Taisho and early Showa periods. Hakone is also well-known among anime fans for being the main location in the manga and anime series Neon Genesis Evangelion, in which it has been renamed Tokyo-3, and there are numerous attractions related to the franchise offered in the town. In 2017, Hakone was included as one of 88 anime pilgrimage sites for 2018 by the Anime Tourism Association.
THE PEOPLE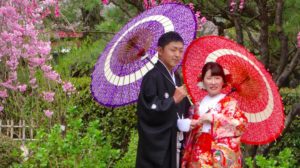 The code of etiquette in Japan governs the expectations of social behavior and is considered very important in Japan. The etiquette varies greatly depending on one's status relative to the person in question. These distinct cultural values make Japanese etiquette substantially different from western and other countries. Greetings are considered to be of extreme importance in Japanese culture, the traditional form being the bow. How far you bow depends upon your relationship to the other person as well as the situation. The deeper you bow, the more respect you show. The older you get, the wiser you are considered and the more respectfully you're treated. Greetings in Japan are very formal and ritualized. There is an entire grammatical rule-set for speaking respectfully to superiors, customers, elders and this plays a large part in good etiquette and in society as a whole. Japanese children are taught to act harmoniously and cooperatively with others from the time they go to preschool and they normally begin learning proper etiquette at a very young age. This need for harmonious relationships between people is reflected in much Japanese behavior. Many place great emphasis on politeness, personal responsibility and working together for the universal, rather than the individual, good. They see working in harmony as the crucial ingredient for working productively. Proper manners/etiquette are valued highly in Japan probably the best feature to describe Japanese people.