ATTRACTIONS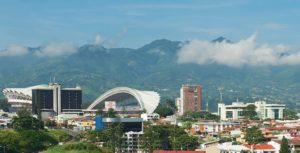 San Jose  San Jose is the capital and largest city of Costa Rica. The city is named in honor of Joseph of Nazareth. Though few people live in the city center, it is the most important working area of the country, which brings in more than a million people daily. According to studies on Latin America, San Jose is one of the safest and least violent cities in the region. In 2006, the city was appointed Ibero-American Capital of Culture. San Jose is the sixth-most important destination in Latin America, according to The MasterCard Global Destinations Cities Index 2012, and ranked 15th in the world's fastest-growing destination cities by visitor cross-border spending. San Jose has a number of theaters, many with European-inspired architecture. These buildings serve as the city's main tourist attractions, not only because of their architecture, but because of the cultural, musical, and artistic presentations and activities, which include traditional and modern Costa Rican and San Josefinan culture. San Jose is also host to various museums, these museums allow visitors to view Costa Rican history, scientific discoveries, pre-Columbian era culture and art, as well as modern Costa Rican art. San Jose is home to many parks and squares (plazas in Spanish); where one can find gazebos, open green areas, recreational areas, lakes, fountains, statues and sculptures by Costa Rican artists and many different bird, tree and plant species. Plazas, or town squares, are very prominent across San Jose's districts.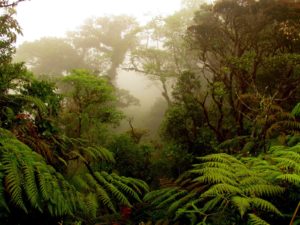 Monteverde Monteverde is one of the country's major ecotourism destinations. The area is host to the Monteverde Cloud Forest Reserve and several other natural attractions, which draw considerable numbers of tourists and naturalists. National Geographic has called the Monteverde Cloud Forest Biological Reserve "the jewel in the crown of cloud forest reserves". Newsweek has declared Monteverde the world's #14 "Place to Remember Before it Disappears". By popular vote in Costa Rica, Monteverde was deemed one of the Seven Natural Wonders of Costa Rica, along with Isla del Coco, Volcan Arenal, Cerro Chirripo, Rio Celeste, Tortuguero, and Volcan Poas. In recent years, the area's rapidly increasing numbers of tourists has brought a sizable influx of Costa Ricans from other towns and cities. Now, an estimated 250,000 tourists visit Monteverde a year. Improved goods and services, including partially paved roads, have arrived in recent years. Due to the area's cloud forests and rain forests (including seven different ecological life zones), Monteverde has become a major part of the Costa Rican tourist trail – despite difficult access.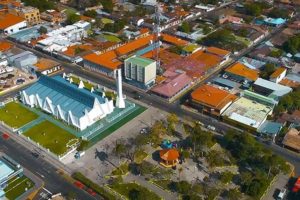 Liberia is the capital and largest city of Guanacaste province, Costa Rica. It is a major center for the country's tourism industry. Liberia has been nicknamed la ciudad blanca (the white city) due to the white gravel that was once used to make the city's roads and the whitewashed colonial houses which used to make up a large part of the city. The city center features a modern church, as many Costa Rican towns do, facing a plaza surrounded by locally owned shops and restaurants. Liberia is also home to an expo that takes place in the month of July, celebrating the annexation of Guanacaste Province on 25 July 1824. Liberia is a city in northern Costa Rica, near the Nicoya Peninsula. In its old quarter, the Museo de Guanacaste has cultural and historical exhibitions. The Museo del Sabanero showcases local cowboy memorabilia, including photographs. The colonial-style Ermita de La Agonia is a Catholic church with a white facade. To the northeast are the active Rincon de la Vieja Volcano and the dormant Miravalles Volcano.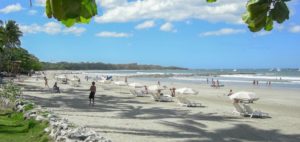 Tamarindo is a town and district of the Santa Cruz canton, located on the Nicoya Peninsula on the Northern Pacific coast of Costa Rica in the Province of Guanacaste. Tamarindo is the largest developed beach town in Guanacaste, and the second-largest in all of Costa Rica. The main attractions are surfing and eco-tourism. One of its Beaches is Playa Tamarindo, a long, rocky beach with excellent waves near the mouth of the estuary. Currents can be strong, especially on a falling tide. Some eco-friendly activities that may be done in Tamarindo and neighboring beaches include: watching turtles during their nesting season, diving, snorkeling, body surfing, zip-lining, estuary trips, horseback riding and fishing. During the December to April period when the water turbidity is low, fishing may be done from the shore. The beaches in the area are generally clean. Common things to do in Tamarindo are: ATV Tours, Estuary Safari, Horseback Riding, Kayak Tours, Massages, White Water Rafting class or Tubing, Tours, Scuba Diving, Snorkeling, Spa & Beauty, Sport Fishing, Sailing, Sunset Sailing, Surfing Lessons, Tennis Classes, Turtle Nesting Tours and Zip Line/ Canopy Tours.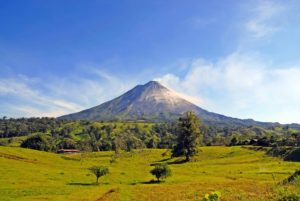 Arenal is an active volcano that glows red from lava flowing down its slopes at night, and billows ash into the heavens during the day. Arenal is Costa Rica's adventure capital where you can hike, ride horses, zipline, rappel, spelunk, paddle or pedal through lush rainforest and tropical rivers and lakes before heading to the volcanically-heated hot springs to soak off your adventures. Arenal is the youngest and most active of all the volcanoes in Costa Rica and one of the ten most active volcanoes in the world. Scientists have been able to date its activity back to more than 7000 years ago. The area remained largely unexplored until 1937, when a documented expedition took place to reach the summit. It has been considered eruptive since 1968. Arenal is estimated to be less than 7,500 years old and considered a young volcano. The volcano was dormant for hundreds of years and exhibited a single crater at its summit, with minor fumaroles activity, covered by dense vegetation. In 1968 it erupted unexpectedly, destroying the small town of Tabacon. Due to the eruption three more craters were created on the western flanks but only one of them still exists today. Since 2010, Arenal has been dormant.
TRAVEL ADVENTURE
Costa Rica is known for its beaches, volcanoes, and biodiversity, full of protected rainforests, stunning wildlife, numerous active and inactive volcanoes and an extensive list of national parks. The country's lush forests are some of the most tranquil and beautiful in the world. Here you'll find crashing waterfalls, gentle streams and unusual wildlife. This country offers all manner of outdoor activities: whitewater rafting, hiking, mountain biking, canopy tours, surfing, swimming, snorkeling and fishing. You can fly through the forest on Costa Rica's famed zip-lines – one of the most exhilarating and terrifying experiences around.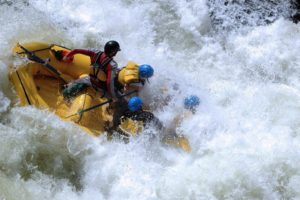 Costa Rica is considered one of the world's best places to ride rapids, but you don't have to be an expert to enjoy Costa Rica's rivers. The country offers plenty of opportunities for all skill levels, including those with no rafting skills at all. You can take leisurely paddles down tame rivers such as the Sarapiqui and Corobici. Both offer a great way to see the country and an ample opportunity for wildlife viewing. More experienced rafters can try to tame the Reventazon River, which means "bursting waves," or the Pacuare, regarded as one of the world's best rafting rivers. The famous hot springs of Costa Rica is the best place to relax after tromping around rainforests and exploring volcanoes. The mineral-infused waters, which vary in temperature from 80 to 105 degrees, are said to be a remedy for a variety of ailments, including arthritis and skin conditions. It's worth a visit to the hot springs resorts of Baldi and Tabacon in La Fortuna. Both include numerous pools, ponds and waterfalls set amid lush gardens. You can also grab dinner, sip a cocktail, or get a massage or mud wrap while you're there. Corcovado National Park, is internationally renowned among ecologists for its biodiversity (including big cats and tapirs) and is where visitors can expect to see an abundance of wildlife. Manuel Antonio National Park also offers a Costa Rican wildlife experience that is not to be missed by animal lovers and those in pursuit of beautiful tropical beaches with rainforest reaching right up to the ocean. This has to be one of the best places in the world to see tropical wildlife, almost seeming like a zoo, as you spot monkeys, sloths and other rainforest dwellers like coatis in a natural environment as you meander along paths on the rainforest floor. Manuel Antonio is a must experience destination both for families and for couples who can select from numerous romantic eco-lodges and beachfront hotels with spectacular views.
THE PEOPLE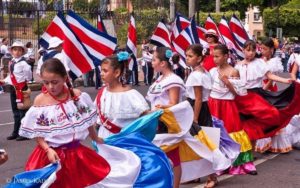 Ticos, as the people of Costa Rica are called, use the phrase pura vida ("pure life") in their everyday speech, as a greeting or to show appreciation for something. Ticos are generally proud of their political freedoms and their relatively stable economy. Costa Ricans or Ticos, are a group of people from a multiethnic Spanish speaking nation in Central America called Costa Rica. Costa Ricans are predominantly whites, castizos (halfway between white and mestizo), harnizos and mestizo, but their country is considered a multiethnic society, which means that it is home to people of many different ethnic backgrounds. As a result, modern-day Costa Ricans do not consider their nationality as an ethnicity but as a citizenship with various ethnicities. Costa Rica has four small minority groups: Mulattoes, Blacks, Asians, and Amerindians. In addition to the "Indigenas", whites, mestizos, blacks and mulattoes, Costa Rica is also home to thousands of Asians. Most of the Chinese and Indians now living in the country are descendants of those that arrived during the 19th century as migrant workers. Costa Rican culture has been heavily influenced by Spanish culture ever since the Spanish colonization of the Americas including the territory which today forms Costa Rica. Parts of the country have other strong cultural influences, including the Caribbean province of Limon and the Cordillera de Talamanca which are influenced by Jamaican immigrants and indigenous native people, respectively. As a result of the immigration of Spaniards, their 16th-century Spanish culture and its evolution marked everyday life and culture until today, with Spanish language and the Catholic religion as primary influences.